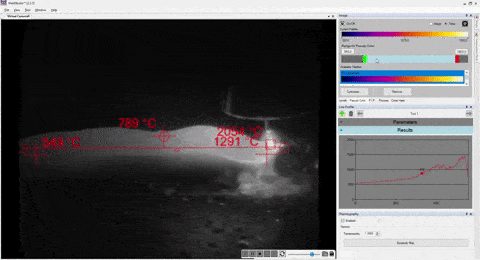 SWIR HDR thermal camera system for metal additive and critical welding applications
Real-time

temperature measurement with an exceptionally clear view of your process

.
Combining a spectacular 120+ dB HDR capability in the Short-Wave InfraRed (SWIR) spectrum, the XIR-1800 thermal camera provides enhanced imaging of metal joining processes beyond what is visible using standard thermal or visible-light cameras.
Get additional quality assurance and improved control of your process with calibrated thermal readings (350-1800 °C) of the key melting and transition temperatures of most metals.
Clear, enhanced imaging of the metal joining process
Using the XIR-1800 Thermal Camera and WeldStudio™, you'll be equipped with a powerful system for improved process development, troubleshooting, and quality assurance.
Specifications
Accessories
Software
Documents
Service & Support
Specifications
Size: 40W x 43H x 66L mm without lens
Weight: 140g without lens
Image Sensor: 1" SWIR HDR InGaAs +120 dB
Camera Resolution: 640H x 512V Pixels (15 µm square)
Thermally Calibrated: 350 °C to 1800 °C
Software: Xiris WeldStudio™ 2.3.5 & later WeldSDK™ 2.2 and later
Max Cable length: 100m
Compliance: CE, FCC-B, RoHS
Accessories
Imaging Lenses
Fanless PC
HMI
Cables
PoE adapters
External cooling plates
Industrial housings
Software
The XIR-1800 thermal camera is fully compatible with Xiris WeldStudio™ software suites 2.3.5 and later. Xiris WeldStudio™ software provide users with a variety of powerful features for camera control, image processing and display, graphical overlays, and video recording and playback. Compatible with Microsoft Windows 10 (64Bit), it includes the Xiris camera driver and controls, and graphic tools to provide the user with crosshairs and targets.
Using the WeldSDK™ these software components can be customized and fully integrated into your welding automation or Additive Manufacturing system. Available for Windows and Linux operating systems.
Software Upgrades
Xiris releases a major new release of software on average once a year with minor upgrades more frequently.
Service & Support
Contact Support – Monday – Friday: 0830 – 1730 Eastern Standard Time
Phone: +1.905.331.6660
Fax: +1.905.331.6661
Email: support@xiris.com
Our partners also provides support and service to our clients at many locations around the world.
Service & Training
Xiris provides its customer base with various levels of service, including new system installation and training, system upgrades and preventative maintenance programs. Many of our partners are trained to offer additional support on our systems.
System Upgrades
Many of our older systems in the field have been upgraded to allow the use of new hardware and software features including improved system reliability, system security, production reporting and updated operating systems. Do you have an older Xiris vision system? Please call your Xiris account manager to receive more information regarding the immediate benefits of a system upgrade.
Preventative Maintenance Visits
Many of our clients request a Preventative Maintenance visit in conjunction with a new system delivery or as a separate service. Our technicians will optimize the performance of the system, upgrade software as applicable, look for potential part failures and conduct training as desired by the client during the visit.
Warranty
All Xiris systems are shipped with a 15-month warranty from the day of shipment from Xiris or a 12-month warranty which commences from the first day of use (whichever comes first). Please have your Xiris system serial number available when you call so we can determine your system warranty status as well as your support plan level.
Once your Warranty expires, your Xiris Account Manager will contact you to discuss your long term support needs. Xiris offers different levels of support plan.
Let us show you the difference of the XIR-1800
Join us for a video demo and info session